Who is ellenJAY?
Every. Single. Day. Someone asks, "Are you Ellen?" We laugh and say, "Wellllllll, there's no Ellen!" It's based on our initials "L & J" for Lauren and Jennifer.
We met in 2008 training for a marathon. Running all those hours forged the best friendship as we chatted for miles and miles. We quickly discovered we shared a passion for all things sweet, modern and simply beautiful.
Years later, we became Mommies within 6 weeks of each other. We continued to run lots of miles, but this time, we were pushing the sweetest babies, Sam and Cora, in their strollers (they completed their first 5K race at 6 months). Soon, running chats revolved around how fun it would be to go into business together.
Just before Sam and Cora celebrated their first birthdays, we said, "Let's do this...for real." We dreamed up a mega girly dessert table for Cora and then, weeks later, a totally handsome dessert table for Sam. And, you know what? We got RAVE reviews. Everyone loved the cakes and cookies, but even more, we were officially 100% obsessed with pursuing this passion.
From that point on, we figured out all the things we knew nothing about…business permits, health code, finances, growing a team, operating a commercial size mixer (let's just say confectioner's sugar went flying the first time that baby was turned on!)… Did we mention our team? We have been blessed with the most talented and devoted team of bakers and decorators we could ask for. Team ellenJAY is truly a family who supports each other in this dream daily.
There have been a million steps that led us to where we are today. Our hearts are still on fire for ellenJAY and we love having the privilege of sharing it with you! Cause, you know…NOTHIN'S GOODER THAN SUGAR!
All the Best,
Lauren and Jennifer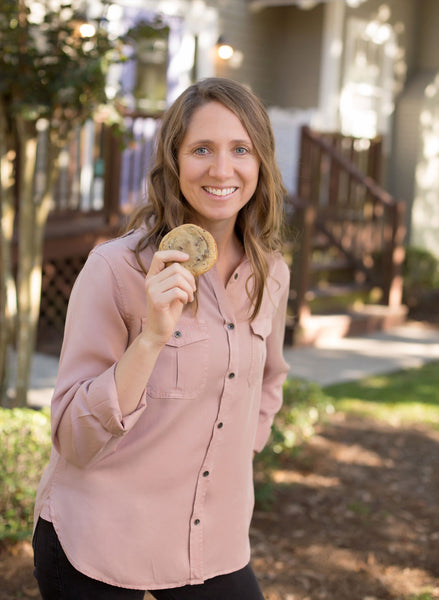 Lauren
WHAT DID YOU DO BEFORE ELLENJAY?
Worked in the printing and graphics industry for 10+ years coordinating the artwork and printing plates for Bounty Paper Towel designs. Baked and blogged as a hobby on the weekends.
FAVORITE ellenJAY SWEET
Milk & Cookies Cake, Cookie Dough Cake or the Double Chocolate Sammie with Cookie Dough Buttercream...so hard to choose just one!
HOBBIES
Baking new recipes with my little ones Sam and Lily. We LOVE making pancakes and muffins on the weekends. Going on family runs with our dog Oreo to the bay and fishing/crabbing from the pier.
FAVORITE WEEKEND HANGOUT
Pensacola Beach and Peg Leg Pete's for lunch or relaxing by our pool.
GUILTY PLEASURE
Milkshakes!
DREAM VACATION
Would love to take an RV trip out west and see all the National parks and states we have never visited. And a stop off in Waco at Magnolia Market & Silos Baking Co. is a must on my bucket list!
HIDDEN TALENT
I can make myself into a pretzel…yeah, don't ask!
WHAT DID YOU WANT TO BE WHEN YOU GREW UP?
Well, in high school I thought one day I would run track in the Olympics…haha!
MORNING ROUTINE
Love a good early morning 20-30 minute Beachbody workout sweat session! Start Today journal, prioritize my daily "to do" list, pack lunches, put in a load of laundry and then off to work…while driving I listen to The RISE podcast with Rachel Hollis.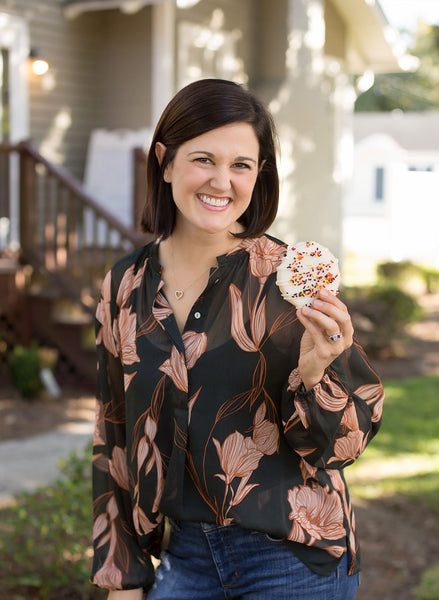 Jennifer
WHAT DID YOU DO BEFORE ELLENJAY?
I was a stay home mom. I tutored during college and graduate school, but ellenJAY was my first real "grownup" job.
FAVORITE ellenJAY SWEET
Lemon Teacakes and all our chocolate items...all of them.
HOBBIES
Running...slowly, but it still counts, right???
FAVORITE WEEKEND HANGOUT
My husband Geoff and I really enjoy the good eats of downtown Mobile. We love Southern National and our kids' fave is The OK Bicycle Shop.
GUILTY PLEASURE
The Bachelor, but I don't feel all that bad about it.
DREAM VACATION
Anywhere tropical...Hawaii, Tahiti, the Caribbean...all of it!
HIDDEN TALENT
I love to do hair and makeup. I've done prom makeup for my nieces a time or two...
WHAT DID YOU WANT TO BE WHEN YOU GREW UP?
A cheerleader...I'm not coordinated so that didn't pan out.
MORNING ROUTINE
I get up at 5am and run while listening to my favorite business podcasts. Goaldigger, The Rise Podcast and How I Built This are on constant rotation.