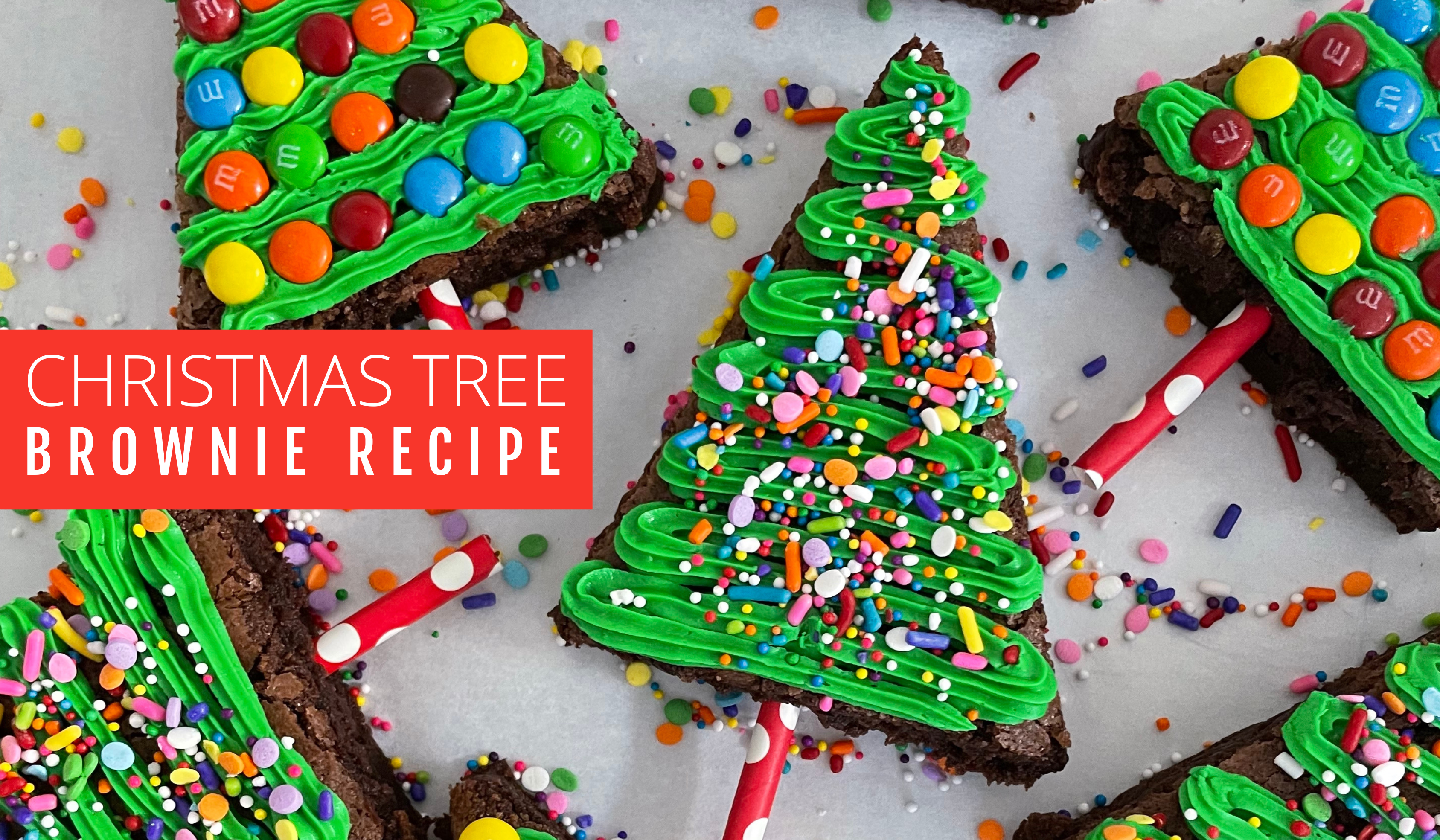 O Christmas Tree, O Christmas Tree, I love you as a Brownie! (singing in your head of course)
In honor of National Brownie Day we whipped up a batch of these festive treats as a team to take a break from all the Christmas Cookies we have been cranking out this month! We thought you might enjoy a quick and easy holiday treat that you can bake and decorate at home with your kids or for upcoming holiday parties. Brownies & Buttercream are the perfect duo to spread some Christmas cheer this year!
BROWNIE INGREDIENTS
1 stick unsalted butter, melted
1 cup granulated sugar
2 eggs
1 tsp vanilla 
1/3 cup cocoa powder
1/2 cup all-purpose flour
1/4 tsp salt
1/4 tsp baking powder
 
DIRECTIONS
1. Preheat oven to 350 degrees and spray 8x8 pan with pan spray.
2. In medium bowl combine all wet ingredients: butter, sugar, eggs and vanilla and mix until incorporated.
3. Add in dry ingredients: flour, salt and baking powder, mix well.
4. Pour batter into prepared pan.
5. Bake for 20 - 25 minutes.
6.  Allow brownies to cool completely.

 
VANILLA BUTTERCREAM INGREDIENTS
4 sticks unsalted butter, softened⠀⠀⠀⠀⠀⠀
2 cups Crisco⠀⠀⠀⠀⠀⠀⠀
4 lbs confectioner's sugar
4 Tbsp vanilla⠀⠀⠀⠀⠀⠀⠀⠀⠀
1/2 cup milk
 
DIRECTIONS
1. In bowl of stand mixer combine butter, Crisco and vanilla and mix on medium high for 2-3 minutes until smooth.⠀⠀⠀⠀⠀⠀⠀
2. Gradually incorporate confectioner's sugar 1 cup at a time and continue to mix on low speed.
3. Once all the confectioner's sugar is added, slowly add in the milk and mix until fully incorporated and smooth for about a minute.

 
SUPPLIES TO DECORATE
Tip # 16⠀⠀⠀⠀⠀⠀
1 Coupler
1 Piping Bag
Green Gel Food Coloring
Sprinkles
Candies (we used M&Ms)
Red Paper Straws
 
DECORATING INSTRUCTIONS
1.  Using a knife, cut the brownies into triangles to create Christmas trees.
2.  Using scissors, cut paper straws to about 2 inches long and insert into the bottom of the brownie triangle to create the Christmas Tree trunk.  
3. In a medium bowl, tint the buttercream with the green gel food coloring.
4. Prepare a piping bag by placing the large piece of the coupler inside and then cut off the end of the piping bag with scissors.
3. Add the tip #16 on top of the coupler and then add the collar (the ring piece of the coupler) over top of the tip and screw on tight to secure the tip.
4. Fill your piping bag about half way full with green buttercream. You don't want to over fill your bags as it will be hard to squeeze. You can re-fill as needed.
5.  Starting at the top of the Christmas tree, pipe icing back and forth in a zig-zag motion until the brownie tree is covered in buttercream.
6.  Decorate the brownie trees with sprinkles and any candies you like.  
7.  Enjoy!
**If you want to re-create this festive dessert with out all the mess and ingredients, feel free to grab a box brownie mix and a can of icing at the store to whip these up in no time!