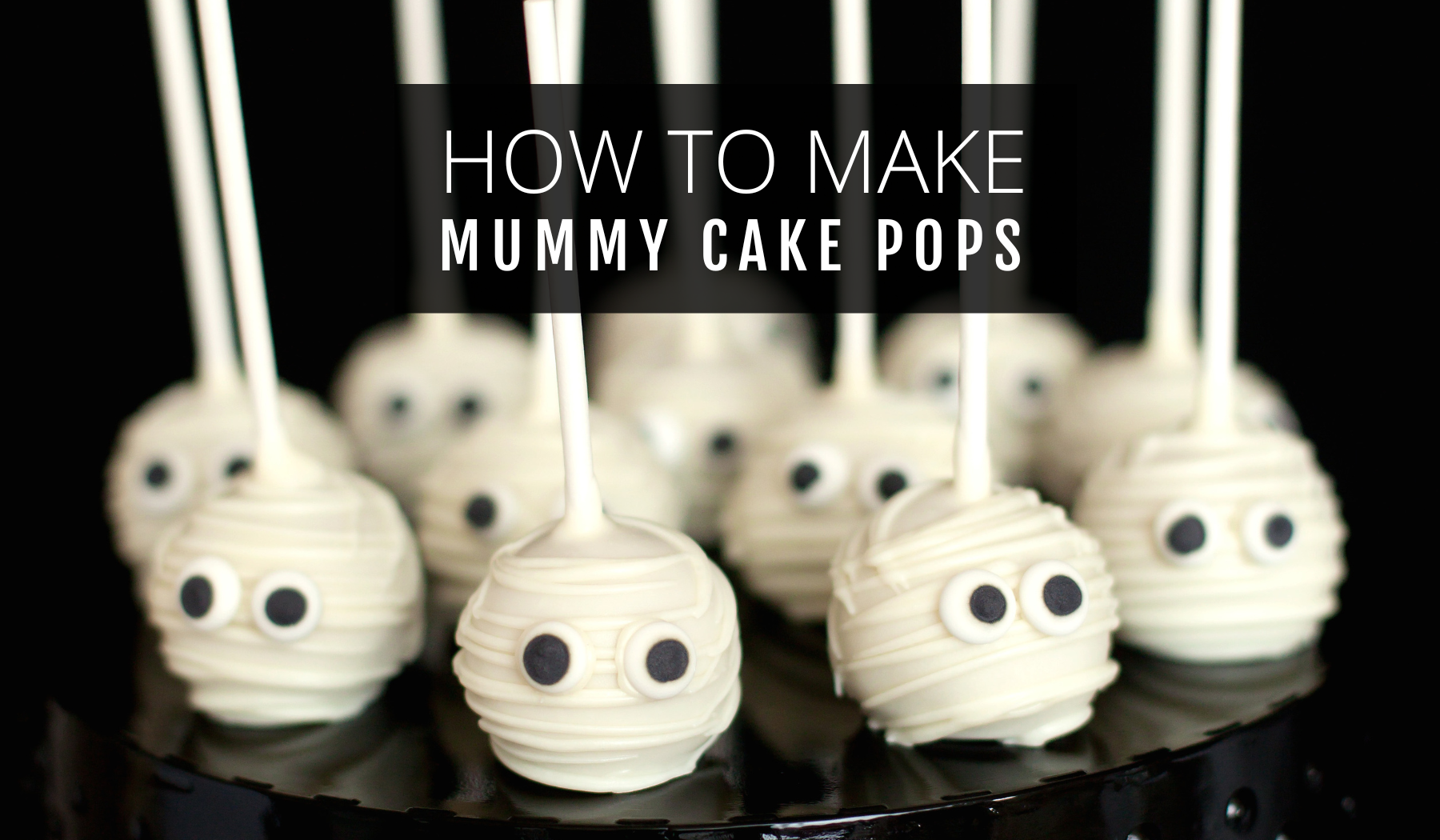 In all our years of creating over-the-top dessert tables, we learned one very important fact: PEOPLE LOVE CAKE POPS! Cake pops might possibly be the perfect Halloween party treat because they're bite-sized, super easy to eat and totally delicious. Your ghoulish guests won't be able to resist these Mummy Cake Pops on your monstrous Mummy Dessert Table.
SUPPLIES
Box Cake Mix (bake as package directs)
Can of Vanilla Frosting
Lollipop Sticks
Ghirardelli White Chocolate Melting Wafers
Candy Eyeballs
Piping Bag
INSTRUCTIONS
1. Bake box mix cake as package directs in 9x13 pan.
2. Once cake is cool gently crumble up cake into a bowl with two forks and slowly add icing a spoonful at a time and mix until all the cake comes together to form a ball.
3. Using a tablespoon, scoop cake and roll into balls. Place rolled balls on a baking sheet. Repeat this process for desired number of cake balls.
4. Melt white chocolate wafers in microwave safe bowl per package instructions. Dip one end of the lollipop stick into the melted chocolate and place into the top of all cake balls.
5. Once all cake balls have lollipop sticks added, place tray into refrigerator to chill for about 15-20 minutes.
6. Remove cake pops from refrigerator and dip into melted chocolate. Gently shake off excess chocolate and place on wax paper lined baking sheet to set.
7. Once all pops have been dipped, add remaining chocolate to piping bag and gently snip the tip off. Holding the lolliop stick in one hand and the piping bag in your other hand gently squeeze the melted chocolate across the cake pop to create the mummy look. Then add 2 candy eyeballs while chocolate is still wet. 
We hope you'll enjoy our spookiest halloween cake pops.  They really are the perfect treat for your Monster Bash! Give them a try and tag us @ellenjaysweets!
All the Best!
Lauren, Jennifer & Team ellenJAY