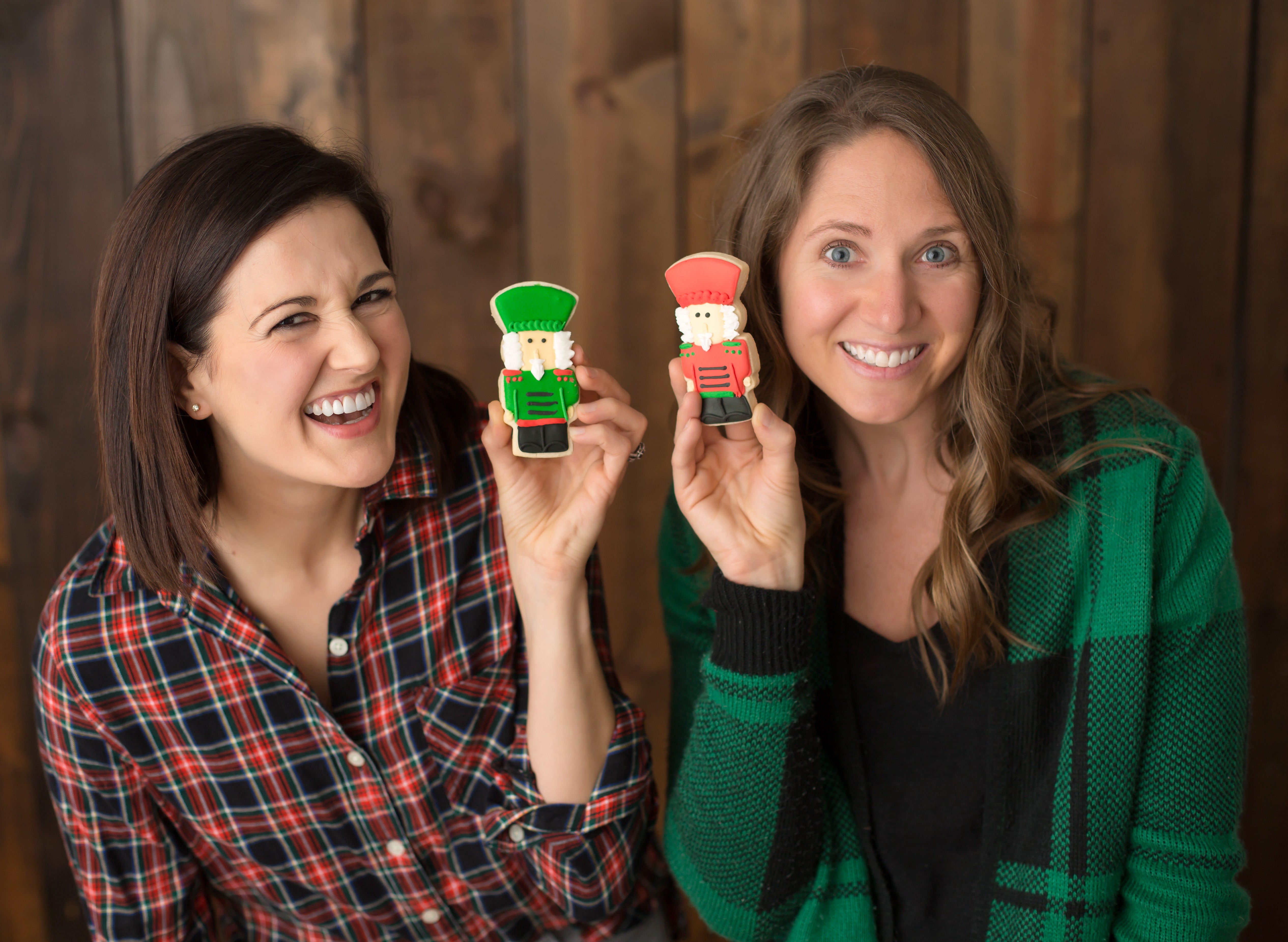 Hold the phone... Just one second please... Is the FIRST month of 2020 nearly over?!?  Wait...W H A T?  
We can't march into the rest of 2020 without stopping for a hot minute to take a look back at the awesomeness that was 2019.  We accomplished some goals that seemed impossible when we set them.  Team ellenJAY had dream opportunities that we still can't quite believe actually happened.  There were countless incredible moments that would take ALL DAY to list, so we're gonna stick to our top 10!  
Here we go...
Our dear friend and designer, Caitlyn Waite, tipped us off that Jimmy Kimmel loved sharing Mobile's pride and joy:  The Crichton Leprechaun news story.  So clearly, we thought Jimmy needed his very own box of ellenJAY cookies!  Lauren googled the address to his studio, wrote a little note saying "Where Da Gold At, Jimmy?" and shipped our cookies off to Hollywood with fingers crossed they would actually get to Jimmy. Can you imagine our complete and utter shock when Jimmy pulled an ellenJAY sugar cookie out of his pocket, thanked ellenJAY and told us they were "Magically Delicious!"  Whoa...we're still not over this one.  THANK YOU JIMMY!!!!
Funny story about this one..."Nic from Google" sent us a message on Instagram asking us to make a #MySuperG and "to click here to learn more."  Y'ALL!  We thought it was spam and deleted it.  Thank heavens, Nic emailed us directly the next day asking if we would be interested in creating a sugar cookie #MySuperG to be featured on Google's instagram page followed by over 11.5 million people!!!  HOLY COW...this was the chance of a lifetime.  THANK YOU GOOGLE!!!
We were honored to announce that we had two exclusive Holiday 2019 sugar cookie collections featured online at Williams-Sonoma.  We worked behind the scenes on this partnership for over a year.  It was a dream to see it all finally happen for real!  We cannot wait to see how this partnership continues to blossom.  THANK YOU TEAM WS!!
4. Living with Landyn - COOKIES FOR A YEAR
We were thrilled to work on several projects for our friend, Landyn, from Living with Landyn.  Our favorite collab with Landyn in 2019 was our BIGGEST giveaway ever.  We gave one of her followers COOKIES FOR A YEAR!!!  It has been so fun to shower one lucky winner with sweetness every single month. Oh... and if you don't already follow Living with Landyn...stop what you're doing and go follow her Instagram account RIGHT NOW.  You can thank us later.  :)
Y'ALL... Attending Rise Business by Rachel Hollis was life changing.  It was an absolute dream come true to watch Rachel share the stage with the BEST AND THE BRIGHTEST in the world of business.  Our hearts were lit on fire with the belief that we can continue to grow ellenJAY to all "she" is meant to be.  THANKS FOR INSPIRING US RACHEL!!! 
Summer 2019 was a HOT one...filled with lots and lots of cool ellenJAY Ice Cream Sammies.  Our Sammies were featured in more spots than ever before; Cammie's Old Dutch, West Mobile Swim Club, Matt's Homemade Ice Cream, Roosters and One Club Gulf Shores.  IS IT SUMMER YET!?!?
7. BEST SELLING ITEM:  ellenJAY Combo Boxes 
Throughout 2019, you guys were in love with our ellenJAY Combo Boxes featuring your faves; hand-decorated sugar cookies, soft and chewy buttercream sammies and melt-in-your-mouth teacakes.  We had a combo box for every possible holiday or celebration...and y'all were here for it!   THANK YOU!!!
8. Family Time
Yes, team ellenJAY worked...HARD.  But, you know what else we did???  We played...HARD, too!!!  Since we're blessed to live so close to the Gulf of Mexico, we hit the beach with our families every chance we got.  We both spent a week relaxing with our families on the famously gorgeous 30A...and we both snuck away to take our families to Disney.  FUN WAS HAD BY ALL!!!!
9. ellenJAY Team
During 2019, none of ellenJAY's accomplishments could have happened without having the MOST amazing team. Y'all, our team is SMART, hard-working, lightening-fast and completely HILARIOUS.  We laugh till it hurts...daily.  This team of ours is such a blessing.  THANK YOU TEAM EJ!!!
10. Charity Ronald McDonald House - Little Black Dress & Girls Just Wanna Have Fun
During 2019, we were honored to give back to the community that supports us.  For the second year in a row, we partnered exclusively with The Ronald McDonald House as our chosen charity.  We had the pleasure of designing two exquisite dessert tables for two very special events.  Our dessert tables at the Little Black Dress event and The Girls Just Wanna Have Fun event were each labors of love.  Watching guests enjoy our sweets while supporting such an extraordinary organization filled our hearts with such joy.  THANK YOU RMH for all that you do!!
Y'all... we weren't joking when we said 2019 was one for the record books.  We were blessed beyond measure.  We can't thank YOU enough for loving and supporting our bakery.  
Now, we can officially march into 2020...LET'S DO THIS!!!  
Thanks,
Lauren and Jennifer (the "L & J" behind ellenJAY)