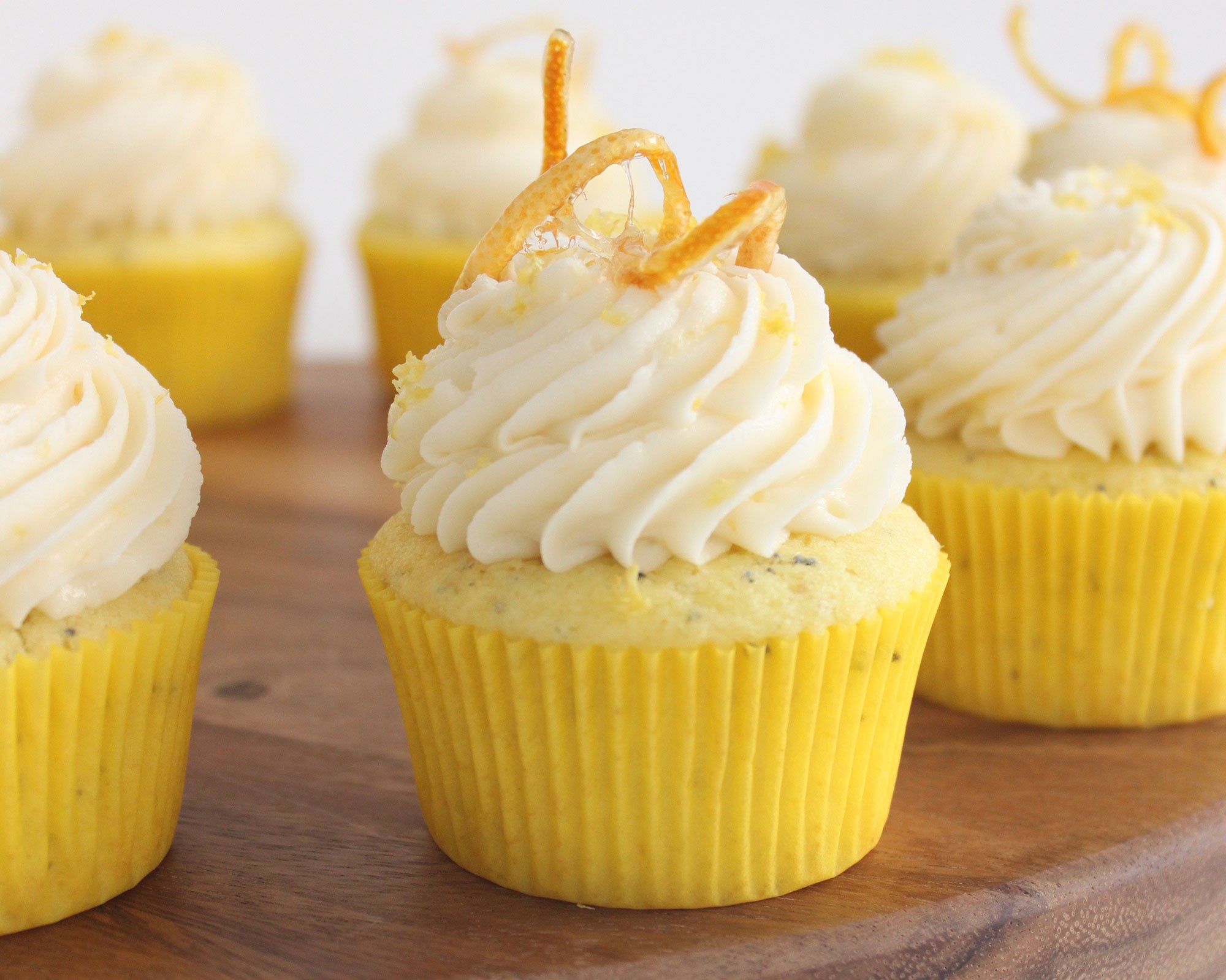 We've been keeping this recipe a secret for far too long and thought now would be the perfect time to share since summer is here! So on your next trip to the Farmer's Market make sure to grab a jar of local honey and some fresh lemons! Our Lemon Poppyseed Cupcakes w/ Honey Buttercream are sure to be a hit with all your family and friends at your next brunch or special occasion.
Lemon Poppyseed Cupcakes w/ Honey Buttercream
(makes 28 cupcakes)
For the Cupcakes:
3 cups cake flour
1 ¾ cups granulated sugar
1 Tbsp baking powder
1 tsp salt
2 sticks unsalted butter, room temperature (cut into small chunks)
5 egg whites
1 cup milk
¼ cup lemon juice
2 Tbsp lemon extract
2 tsp lemon zest
1-2 drops yellow food coloring
1 Tbsp poppy seeds
Preheat oven to 350 degrees and line cupcake pan with cupcake liners.
In bowl of stand mixer combine dry ingredients: cake flour, sugar, baking powder and salt and mix well.
Gradually add cubed butter a little at a time and mix on low until mixture resembles sand.
In small bowl mix all wet ingredients: egg whites, milk, lemon juice and lemon extract. Add to flour butter mixture and mix about 1-2 minutes scraping bowl as necessary until incorporated.
Add lemon zest, yellow food coloring, and poppy seeds and mix.
Fill cupcake liners ¾ full.
Bake for 16-20 minutes, or until toothpick inserted comes out with a few crumbs.
 Allow cupcakes to cool in pans for 5 minutes, then remove to wire racks to finish cooling.
For the Honey Buttercream:
4 sticks unsalted butter, room temperature
8 cups confectioner's sugar
1/3 cup honey
zest of 2 lemons
Cream butter in bowl of stand mixer on medium speed for 2 minutes, until smooth.
Reduce mixer speed to low, and slowly add in confectioner's sugar 1 cup at a time while mixer is running and mix until smooth.
Mix in honey and beat until smooth.
Add in lemon zest and mix until incorporated.
Prepare piping bag with large French tip, place buttercream inside and swirl on top of cupcakes.
Top with candied lemon curls and more lemon zest if desired.
For the Candied Lemon Curls:
1 lemon
1 cup granulated sugar
1 cup water
Cut the ends off of lemon.
Cut down one side of the lemon, stopping once you reach the peel. Do not cut through the peel.
Carefully open up the lemon and make more cuts through the fruit until it lays flat.
Use a sharp knife to remove the fruit from the peel.
Carefully fillet all of the white part from inside the peel.
Lay the peel flat and cut into thin strips about 1/8" wide.
Make simple syrup by combining water and sugar into a small saucepan and brining to a simmer over low heat.
Add in lemon peels and simmer for 10 minutes, stirring occasionally.
Gently remove peels and lay on cooling rack.
Let the peels sit for about a minute and then curl them quickly by hand, or using a straw.
Let the curls dry and place on top of cupcakes for garnish.
ENJOY!
If you whip up a batch we'd love to see your creations so please share them on Instagram with #nothinsgooderthansugar