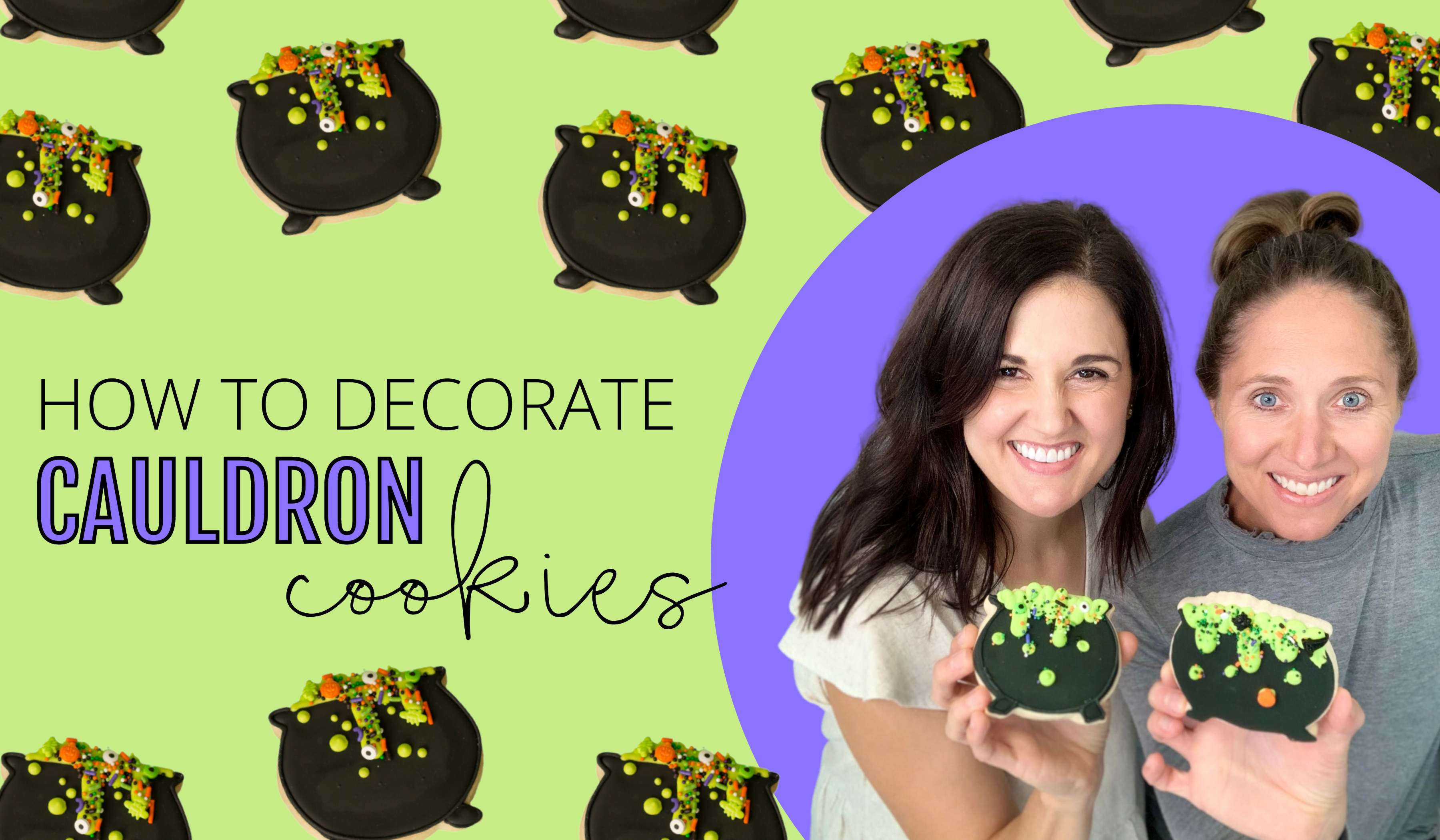 Something wicked this way comes...
Ok... not really wicked, but totally ADORABLE and absolutely DELISH!  Our cauldron sugar cookies will help you deliver some serious sweetness to your favorite ghoul this Halloween. 
To get started, you'll need one batch of our favorite SUGAR COOKIE DOUGH and ROYAL ICING RECIPE. 
 SUPPLIES
(1) Cauldron Cookie Cutter 
(2) Couplers
(1) #2 Wilton Tip
(1) #10 Wilton Tip
(1) Americolor Gel - Black
(1) Americolor Gel - Lime Green
(1) Piping Bag filled with black icing (piping consistency)
(1) Plastic Condiment Bottle Filled with black icing (flood consistency)
(1) Piping Bag filled with lime green icing (piping consistency)
Assorted Halloween Sprinkles
 1.  Bake your cauldron cookies.
 2. Pipe the outline using black piping consistency around the edge of the cookie.  Be sure to leave room at the top for your "potion" to boil over.  ;)
3. Using black flood consistency icing, fill in the shape of the cauldron cookie. Be careful not to overflow. If you have any air bubbles you can pop them with a toothpick.
 4. Allow flooded cookie to dry for 2-3 hours or overnight before adding the piped final details.
5.  Using the lime green piping consistency icing and your #10 Wilton tip, add squiggly lines up and down across the top of the cauldron so your potion looks like it is boiling over.  Add a few random bubbles for a creepy floating effect.  Immediately, add your Halloween sprinkles to the top of the lime green icing before it starts to harden. 
Allow your final piped "potion" details to dry completely (for about 3 - 6 hours) before placing them in an airtight container.  Cookies kept airtight are good up to 3 weeks, but we're pretty sure they won't last that long!
If you whip up a batch of these adorable Cauldron Cookies this Halloween, be sure to tag us @ellenjaysweets on Instagram.  
All the Best, 
Lauren, Jennifer & Team ellenJAY