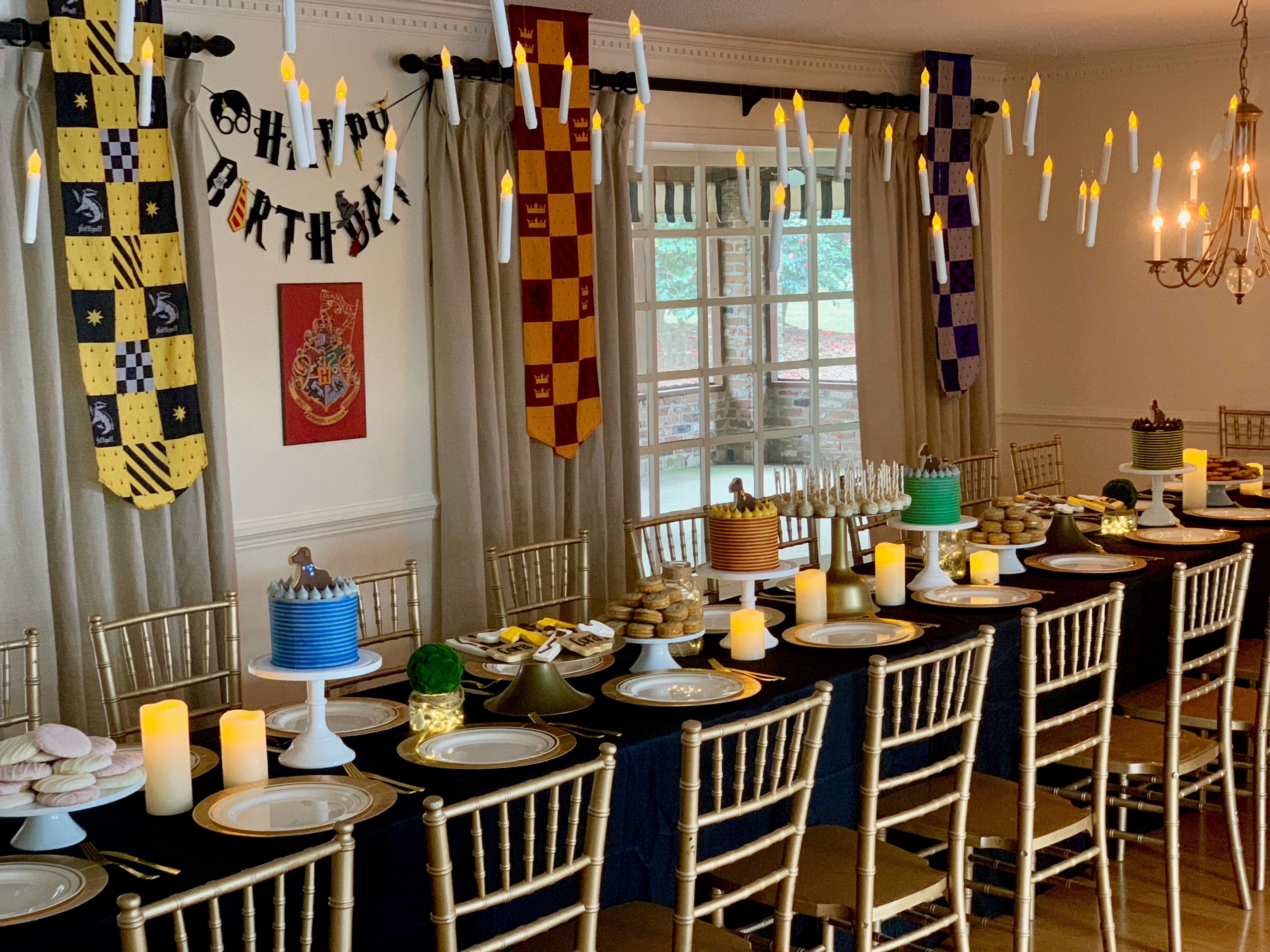 When the time came to plan my daughter, Cora's, 7th birthday, I was shocked that she was totally torn about what her theme would be.  I was sure Cora wanted a puppy-themed party for the third year in a row.  This kid has been and always will be OBSESSED with dogs.
So, when we sat down at the kitchen table to plan her 7th birthday together, I couldn't believe she was considering changing her tried and true theme.  She said, "Mama…you KNOW I love dogs and I totally want to have another puppy party, but…I reeeeeeally like Harry Potter now.  I don't know what to do!"  Thankfully, Cora's stepbrother, Gavin, knew exactly what to do.  He suggested a PUPPY POTTER Party.  You know….Hairy PAW-ter and the Dogwarts School of Training and Trickery. IT. WAS. PERFECT.
Cora had the magnificent idea of designing her own "Puppy Potter" artwork for the invitation.  Lucky for us, our friends at Soiree Signatures could handle the rest of the invite design.  It was PAW-fect!
The timing for Cora's party was quite fabulous because we were about to embark on a home renovation.  Our dining room was completely bare and the ultimate stage for the Great Hall of Hogwarts….er…I mean Dogwarts.  My hunky hubby, Geoff, got to work hanging flameless pillar candles.  They were honestly my favorite part of the whole design!  The mood they created was 100% Harry Potter!
Team ellenJAY got to work creating the BEST candle lit dessert table ever!!!  The way Cora's table twinkled was truly magical.  Cora and her guests were treated to the yummiest Harry Potter-themed treats with some puppies thrown in for good measure.  ;)  
Our little group of pups, wizards and muggles noshed on hand-decorated sugar cookies, chocolate chip cake with cookie dough filling (our FAVE!), strawberry and lemon teacakes, vanilla cake pops dipped in Ghirardelli white chocolate, chocolate chip buttercream Sammies and chocolate chip cookies with M&Ms.  What can I say???  My girl likes chocolate chips...and so does mama!
Y'all, planning Cora's birthday parties each year is truly a labor of love, but I could never do it without our endlessly talented ellenJAY team, my brilliant business partner, Lauren, and my hunky hubby, Geoff.  I know Cora will always look back her Puppy Potter Party and feel the magic!!  
All the Best, 
Jennifer