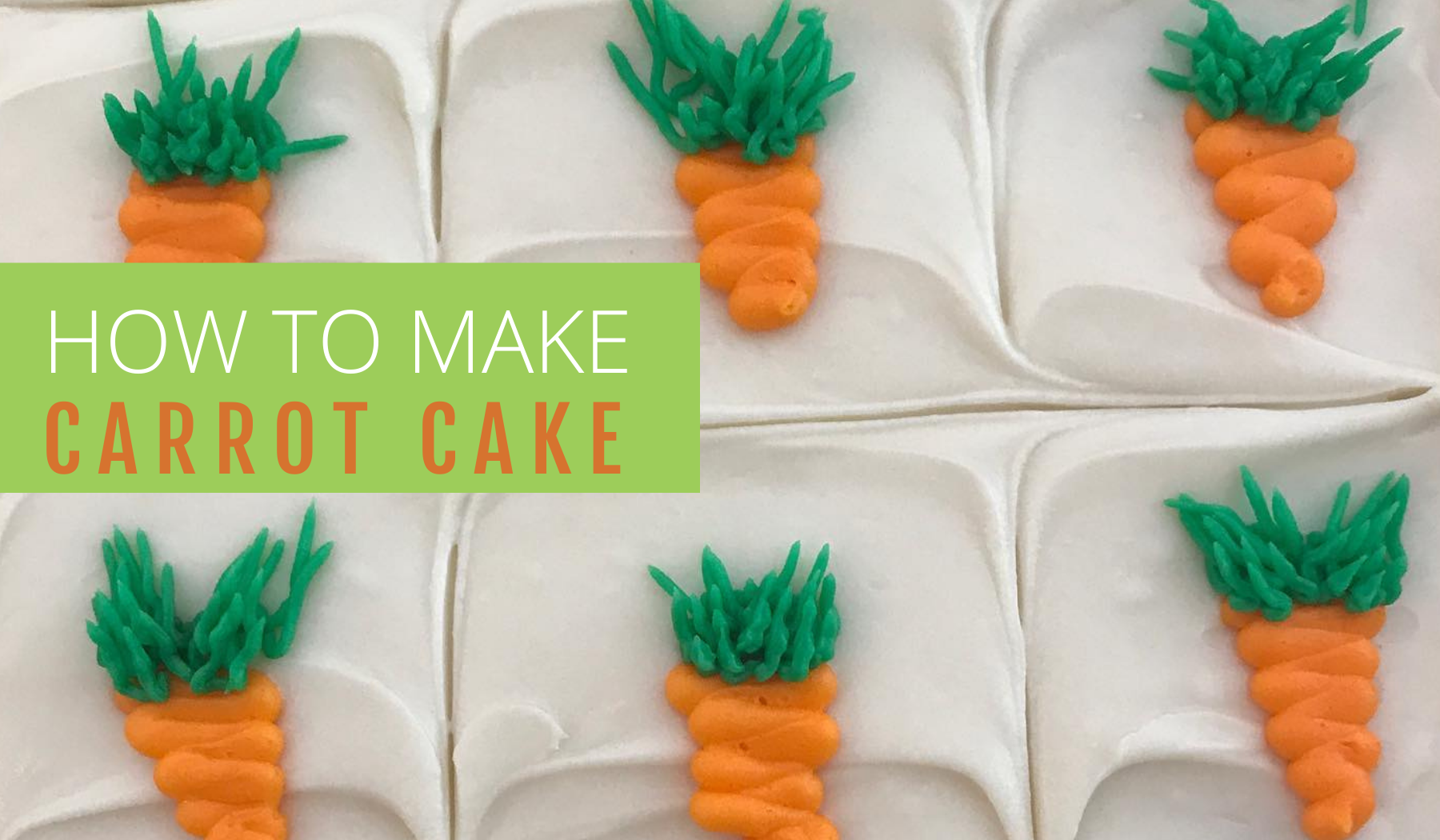 We're going back to our ROOTS to share an Easter family favorite recipe that you'll want to savor all Spring long: Carrot Cake with classic Cream Cheese Icing. This recipe can be whipped up in no time with ONE bowl, a mixer, and a spatula. Keep calm and carrot on!! 
⠀⠀⠀⠀⠀⠀⠀⠀⠀⠀⠀⠀

FOR THE CAKE:
INGREDIENTS:
2 cups sugar
1 1/2 cups oil
4 eggs
2 cups all purpose flour
2 tsp baking powder
2 tsp baking soda
1 tsp salt
3 tsp cinnamon
3 cups shredded carrots
1 8oz can crushed pineapple, drained
1/2 cup walnuts, chopped
INSTRUCTIONS:
1. Preheat oven to 350 degrees and spray 9x13 pan with.
2. In large bowl combine sugar and oil and mix well.
3. Add eggs, flour, baking powder, baking soda, salt, cinnamon, pineapple and nuts and mix until incorporated.
4. Fold in the carrots.
5. Pour mixture into prepared pan.
6. Bake for 30-40 minutes (checking with a toothpick).
7. Allow to cool completely before frosting with Cream Cheese Icing.
FOR THE CREAM CHEESE ICING
INGREDIENTS:
8 oz Cream Cheese, softened
1 stick unsalted butter, softened
4 cups powdered sugar
2 tsp vanilla
INSTRUCTIONS:
1. In bowl of stand mixer combine cream cheese, butter and vanilla and mix on medium high for 2-3 minutes until creamy.
2. Gradually incorporate powdered sugar and continue to mix on medium until smooth and creamy.
3. Spread icing over cake using an offset spatula. Reserving some to make the carrots.
4. Make gently horizontal and vertical lines in the icing with a knife to create 24 sections.
TO DECORATE WITH CARROTS:
SUPPLIES:
Tip # 5
Tip # 233
2 Piping Bags
Green Color Gel
Orange Color Gel
INSTRUCTIONS:
1. Tint icing orange and green and place in piping bags with @wiltoncakes piping tips #5 for the carrot and #233 for the green top.
2. Pipe an orange triangle in a zig zag motion for the carrot on each section.
3. Pipe two squeezes of green icing on top of each carrot.
Lily is hard at work creating her carrot masterpieces.
Can y'all guess which carrots Lily piped? A little clue...they're the 8 at the bottom!
Sam snuck in and is anxiously awaiting a slice or two! He's my little cake lover!
Oh hey! Lily is rewarding herself with a few icing squirts from the piping bag! She's definitely the icing bag eating expert around here.
The cutest little carrots from the cutest little bunnies! We hope you all have a wonderful Easter! 
Happy Baking!
Lauren, Jennifer, and Team ellenJAY :)