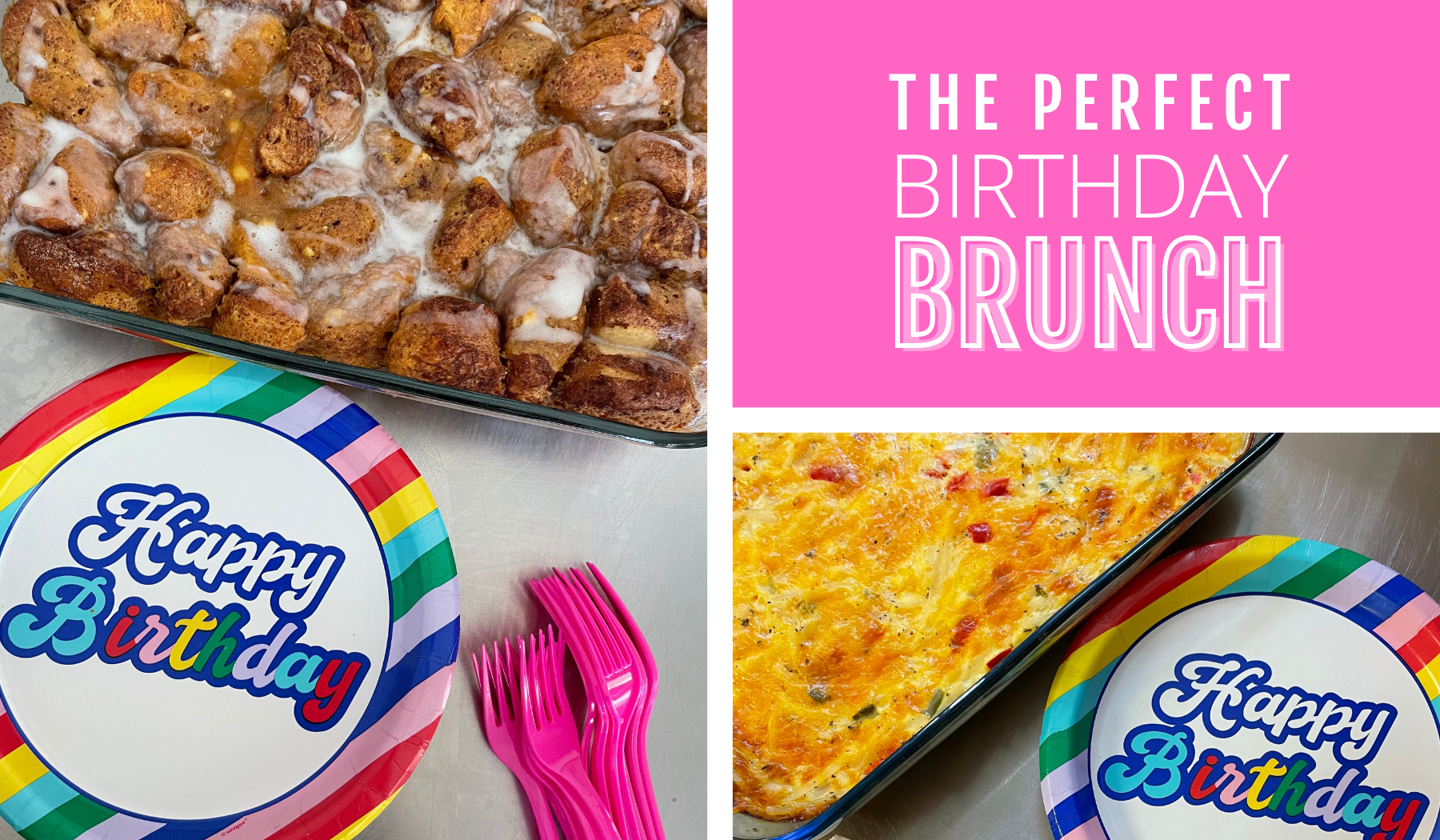 Last week, team ellenJAY celebrated Jennifer's 42nd birthday. Since Jennifer (the "J" of ellenJAY) is completely obsessed with all things breakfast, the team whipped up the Perfect Birthday Brunch.
Did you know Jennifer cooks herself a legit breakfast every single day of the week? She really does! Even though Jennifer's hubby and kids are perfectly happy grabbing a granola bar on the go, Jennifer can't start her day without breakfast with all the fixins. 
Today, we're sharing two easy and delicious brunch recipes you're going to want to make this weekend; Pumpkin Cinnamon Roll Monkey Bread and Hashbrown Casserole. 
The first thing on the Birthday Brunch menu was Lauren's (the "L" of ellenJAY) latest twist on Monkey Bread; Pumpkin Cinnamon Roll Monkey Bread. After digging into this ooey, gooey brunch delight, Jennifer declared this comforting dish will be at every single one of her family's holiday breakfasts from now until forever.  It was THAT GOOD!  
PUMPKIN CINNAMON ROLL MONKEY BREAD 
Ingredients:
1/2 cup granulated sugar
2 Tbsp pumpkin pie spice
3 cans of Pillsbury Cinnamon Rolls (8ct), reserve icing for glaze
1 cup light brown sugar
1/2 cup butter
1/3 cup canned pumpkin puree    
Directions:
1. Preheat oven to 350 degrees and lightly spray 9x13 baking dish with baking spray.
2. In a gallon size ziploc bag add the granulated sugar and pumpkin pie spice and shake together.
3. Cut the uncooked cinnamon rolls in half and place in the plastic bag with the sugar mixture. Shake the bag until all cinnamon roll pieces are evenly coated. Place pieces into the prepared dish.
4. Place brown sugar, butter, pumpkin and cream cheese in medium microwave safe bowl and heat until melted, about 2 minutes. Stop and stir after 1 minute. Pour melted mixture on top of cinnamon rolls.
5. Bake for 25 - 30 minutes until tests done with toothpick. 
6. Drizzle cream cheese icing from the cinnamon rolls over top.  
Since we had the sweetest brunch dish ever with the Pumpkin Cinnamon Roll Monkey Bread, Lauren also wanted to whip up something savory with eggs since Jennifer eats them every morning. This perfect Hashbrown Casserole recipe was a huge hit with the whole team. 
HASHBROWN CASSEROLE
Ingredients:
20 oz shredded hash browns, thawed
1/4 cup onion, chopped
1/2 red bell pepper, chopped
1/2 green bell pepper, chopped
2 cups shredded cheddar cheese
8 eggs
1 1/3 cups milk
1/2 tsp Italian seasoning
1/2 tsp salt
1/4 tsp pepper
*optional add 1 pound of cooked sausage
Directions:
1. Preheat oven to 350 degrees.
2. Set aside 1/2 cup cheese for topping
3. Place the hashbrowns, onions, peppers and remaining 1 1/2 cups of cheese in a 9x13 baking dish. Gently mix everything together and spread evenly.
4. In medium bowl combine eggs, milk, Italian seasoning and salt and pepper. Whisk until combined. 
5. Pour egg mixture over the hashbrown mixture and sprinkle remaining cheese on top. 
6. Bake for 45 - 50 minutes or until cooked through.
We hope you'll enjoy these two brunch recipes.  They really are the perfect dishes for the holidays or your next get together with friends. Give them a try and tag us @ellenjaysweets so we can see what you bake!
All the Best!
Lauren, Jennifer & Team ellenJAY