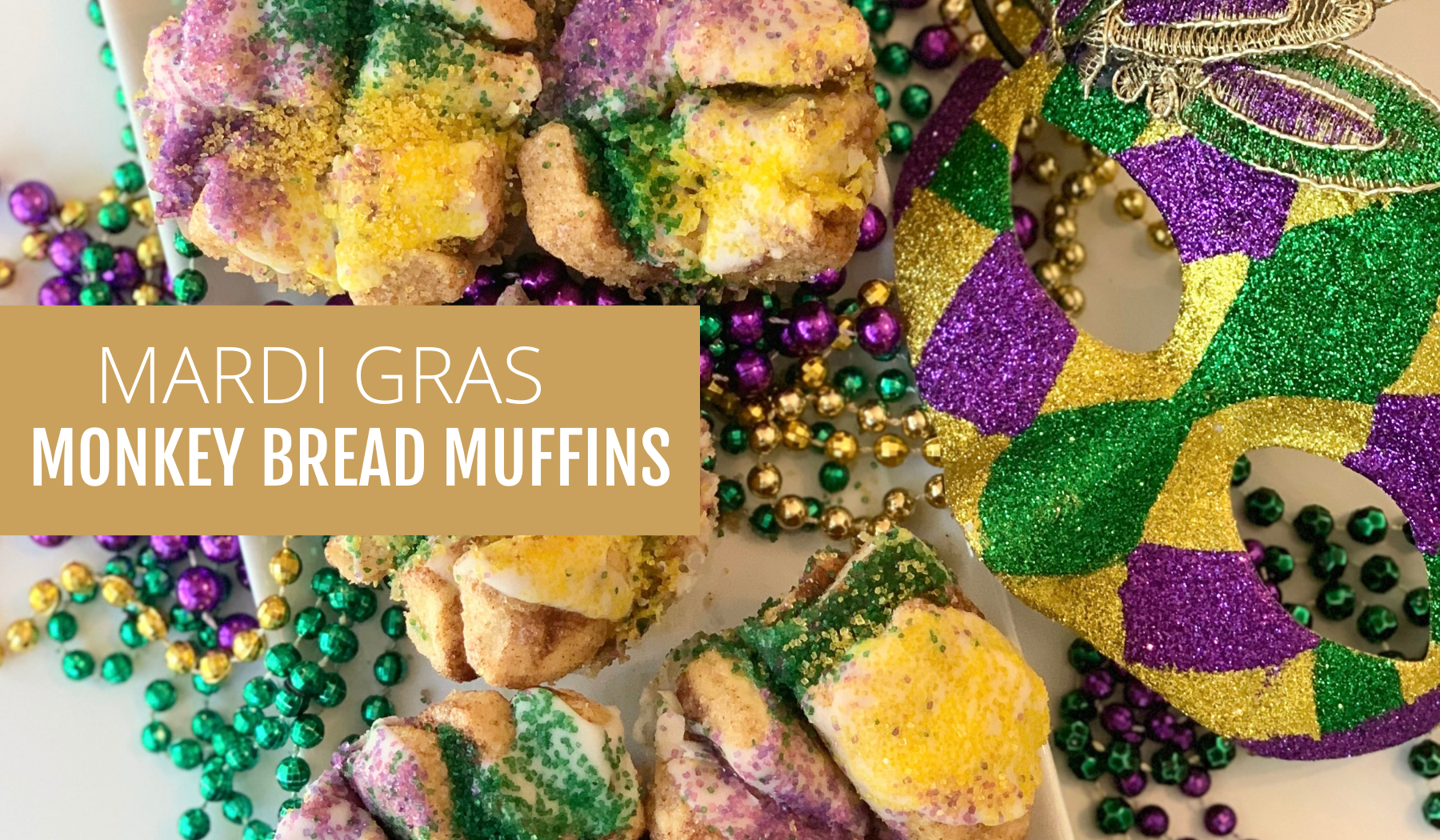 The name of our Mardi Gras Monkey Bread Muffins may be a mouthful, but you're gonna be SO glad you took a BITE!
These muffins are super easy and quick to whip up…and they're so unbelievably good. Bake up a batch yourself and let us know if they get you in the Mardi Gras spirit. Throw on some beads and get the parade party started!
** Yields: 20 **
INGREDIENTS
3 Cans Pillsbury Grands Cinnabon Cinnamon Rolls (5ct)

2/3 cup granulated sugar

2 tsp cinnamon

1 cup light brown sugar

1 ½ sticks unsalted butter

Purple, yellow and green sanding sugar
DIRECTIONS
Line muffin pan(s) with 20 cupcake wrappers.

Open cinnamon rolls and cut each roll into 4 pieces. Reserve icing for later.

In a small bowl, mix 2/3 cup granulated sugar with 1 tsp cinnamon.

Roll the cinnamon roll pieces in the cinnamon sugar mixture and place 3 pieces per cupcake wrapper.

In a medium microwave safe bowl add brown sugar, butter and 1 tsp cinnamon. Microwave at 30 second increments whisking in between until completely melted (about 1-2 minutes).

Pour 1 Tbsp of brown sugar mixture on top of each cinnamon roll muffin cup.

Bake at 350 degrees for 15-20 minutes. (baking times will vary by ovens, ours baked for 18 mins).

Let cool for 5 minutes in the pan.

Frost each monkey bread muffin with the supplied icing and sprinkle each with purple, yellow and green sanding sugars.

Enjoy warm or at room temperature. Store leftovers in airtight container.
Planning to bake up these babies?  Tag us @ellenjaysweets so we can share your yumminess!!  ENJOY!