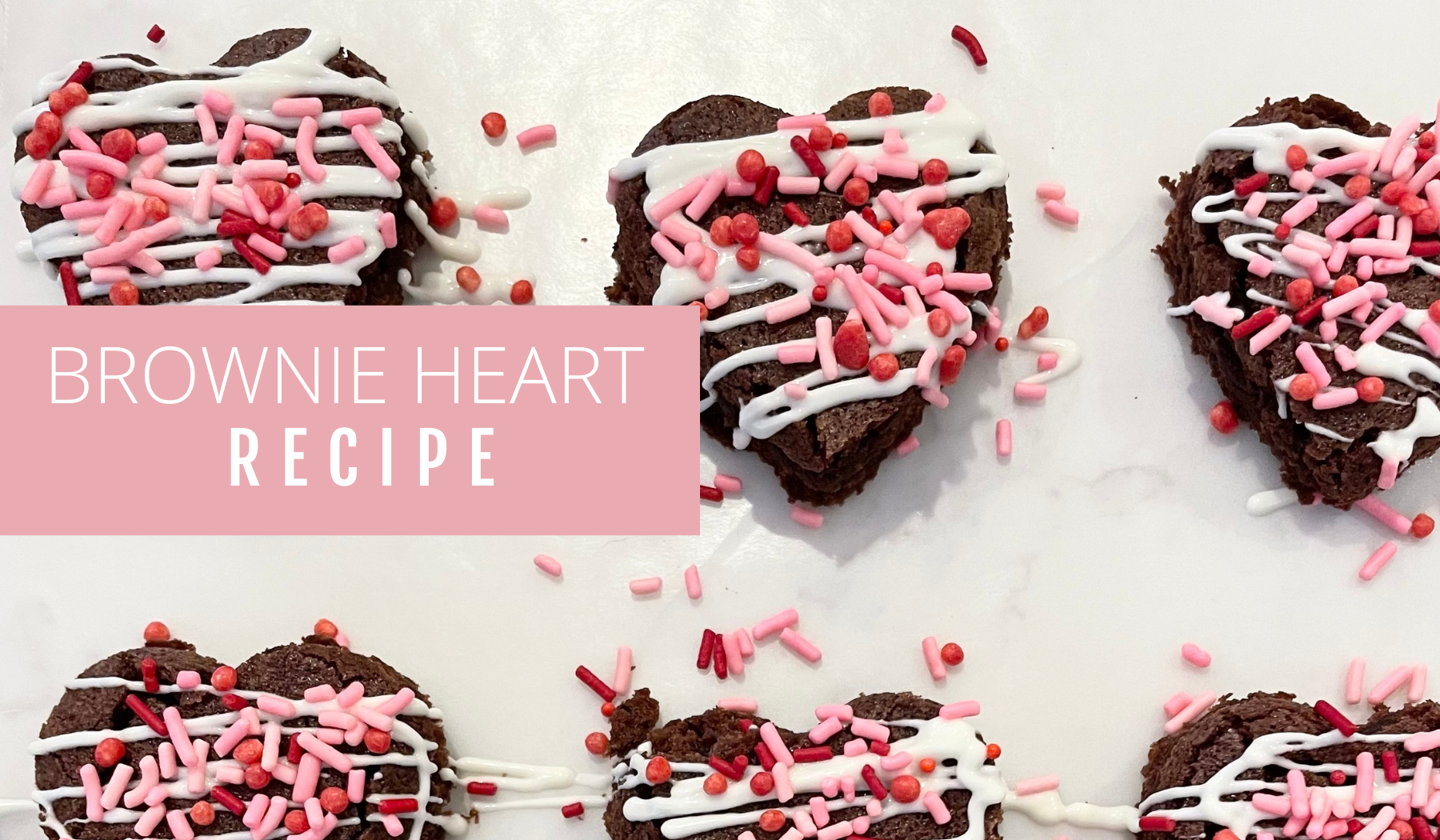 I bet you would LOVE a mega easy and oh-so-decadent treat right about now. These Valentine's Day Brownie Hearts feature our favorite brownie recipe decorated to make your heart go pitter-patter.   
Gather up a few ingredients and you'll be digging into these lovelies in no time!
**Makes 9-10 heart-shape brownies**
INGREDIENTS
1 stick unsalted butter, melted
1/2 cup granulated sugar
1/2 cup brown sugar
2 eggs
1 tsp vanilla
1/3 cup cocoa powder
1/2 cup all-purpose flour
1/4 tsp salt
1/4 tsp baking powder
pink & red sprinkles
1/2 cup Ghirardelli White Chocolate Melts
SUPPLIES
heart shape cookie cutter
piping bag
DIRECTIONS
1. Preheat oven to 350 degrees and spray 8x8 pan with baking spray.
2. In medium bowl combine all wet ingredients: butter, sugars, eggs, vanilla. Mix until incorporated.
3. Add dry ingredients: flour, salt, baking powder and cocoa powder. Mix well until smooth.
4. Pour batter into prepared pan and bake for 20 minutes or until done.
5. Allow brownies to cool on counter completely before cutting.
6. Using a heart shape cookie cutter, cut into heart shapes and place on a piece of wax paper. 
7. Melt white chocolate in microwave safe bowl in 30 second increments, stirring after each until completely melted and smooth. Will take about 1-1:30 minutes.
8. Pour melted chocolate into a piping bag and snip the tip off the end.
9. Drizzle the melted chocolate back and forth over the heart brownies and add sprinkles on top of chocolate. 
10. Enjoy your treats!!!
Show us your results!!  Tag us on Instagram @ellenjaysweets so we can share your love for baking!!!