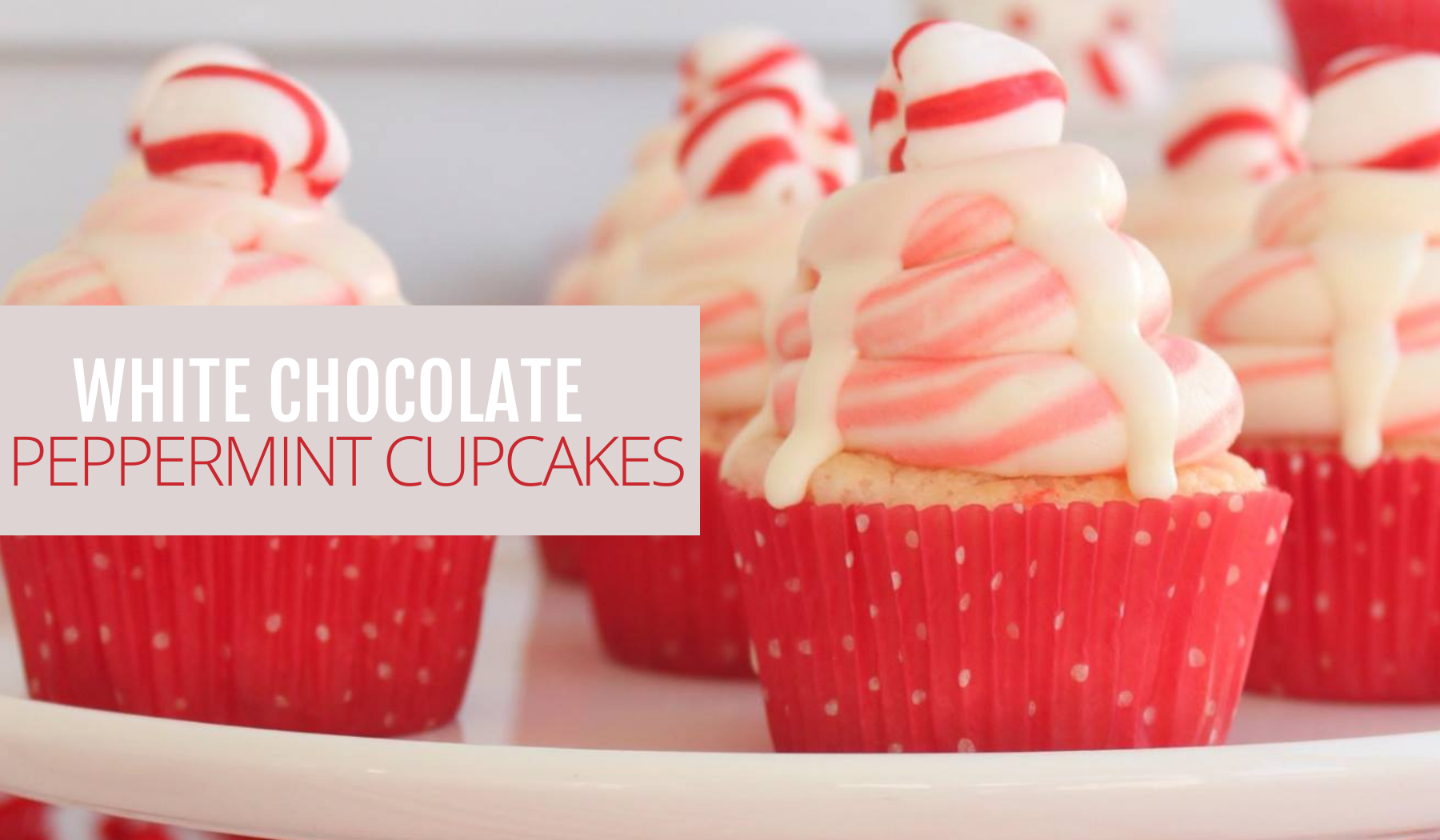 We can hardly contain our excite-mint about these fresh little treats: WHITE CHOCOLATE PEPPERMINT CUPCAKES. These festive cupcakes are the perfect treats to savor this holiday season!
We hope you've enjoyed our 12 days of Christmas recipes this season just as much as we've enjoyed creating them for you and your families! If you try any of these recipes at home, take a sweet pic and tag us @ellenjaysweets so we can see your very own holiday magic!!
INGREDIENTS
For the cupcakes:
3 cups cake flour
1 3⁄4 cups sugar
1 tablespoon baking powder 
1 teaspoon salt
1 cup unsalted butter, room temp, cut into small cubes
5 egg whites1 1⁄4 cup milk, room temperature
1 tablespoon peppermint extract
12 crushed candy canes (full size)
1⁄4 cup milk
4.4 ounces good quality white chocolate
gel paste food color, red
For the Buttercream:
1 cup unsalted butter, room temp 
1 cup vegetable shortening
2 pounds (8 cups) confectioners' sugar
2 tablespoons vanilla extract
1⁄4 cup milk
4.4 ounces good quality white chocolate
Gel paste food color, red
For Ganache and Decor:
6 ounces white chocolate or white chocolate candy coating 
2 ounces heavy cream
28 soft peppermint candy balls
INSTRUCTIONS
For the Cupcakes:
Preheat oven to 350 degrees and line cupcake pan with cupcake liners. 

Combine milk and peppermint extract, and set aside.

Combine dry ingredients: cake flour, sugar, baking powder, and salt in bowl of stand mixer and mix on low for 2-3 minutes.

Add butter a few cubes at a time and mix on low until mixture resembles coarse sand.

Add egg whites and beat on medium speed until combined.

Gradually add milk mixture and beat for 1-2 minutes until batter is smooth.

Fold in crushed candy canes.

Fill cupcake liners 3⁄4 full.

Bake for 16-18 minutes, or until toothpick inserted comes out with a few crumbs.

Allow cupcakes to cool in pans for 5 minutes, then remove to wire racks to finish cooling.
For the Buttercream:
Cream butter, vegetable shortening and vanilla in bowl of stand mixer on medium speed for 2 minutes, until smooth.

Reduce mixer speed to low, and slowly add in confectioners' sugar 1 cup at a time while mixer is running.

Once all the confectioners' sugar is incorporated, add the milk and mix for 30 seconds.

Melt white chocolate in microwave for 30-second intervals, stirring after each until melted.

Incorporate melted chocolate into buttercream and mix until fluffy.
6. Reserve 1⁄4 cup buttercream and add a small amount of red color gel to tint.
7. Prepare a small piping bag with the red buttercream and snip the tip off. 

Prepare a larger piping bag fitted with a large round tip.

 Streak the inside of the large piping bag with six stripes of red buttercream.

Fill the rest of the bag with the White Chocolate Buttercream.

Squeeze a swirled dollop of buttercream on top of each cupcake. 

Place cupcakes in the fridge to chill while preparing the ganache.
For the Ganache and Decor:
Combine cream and white chocolate in microwave safe bowl and heat on 30- second intervals, stirring in between for about 1 minute.

Stir until chocolate melts, allow to cool & thicken slightly for about 5 minutes.

Transfer to a squeeze bottle and drizzle ganache over top of buttercream. 4. Garnish each cupcake with a peppermint candy.