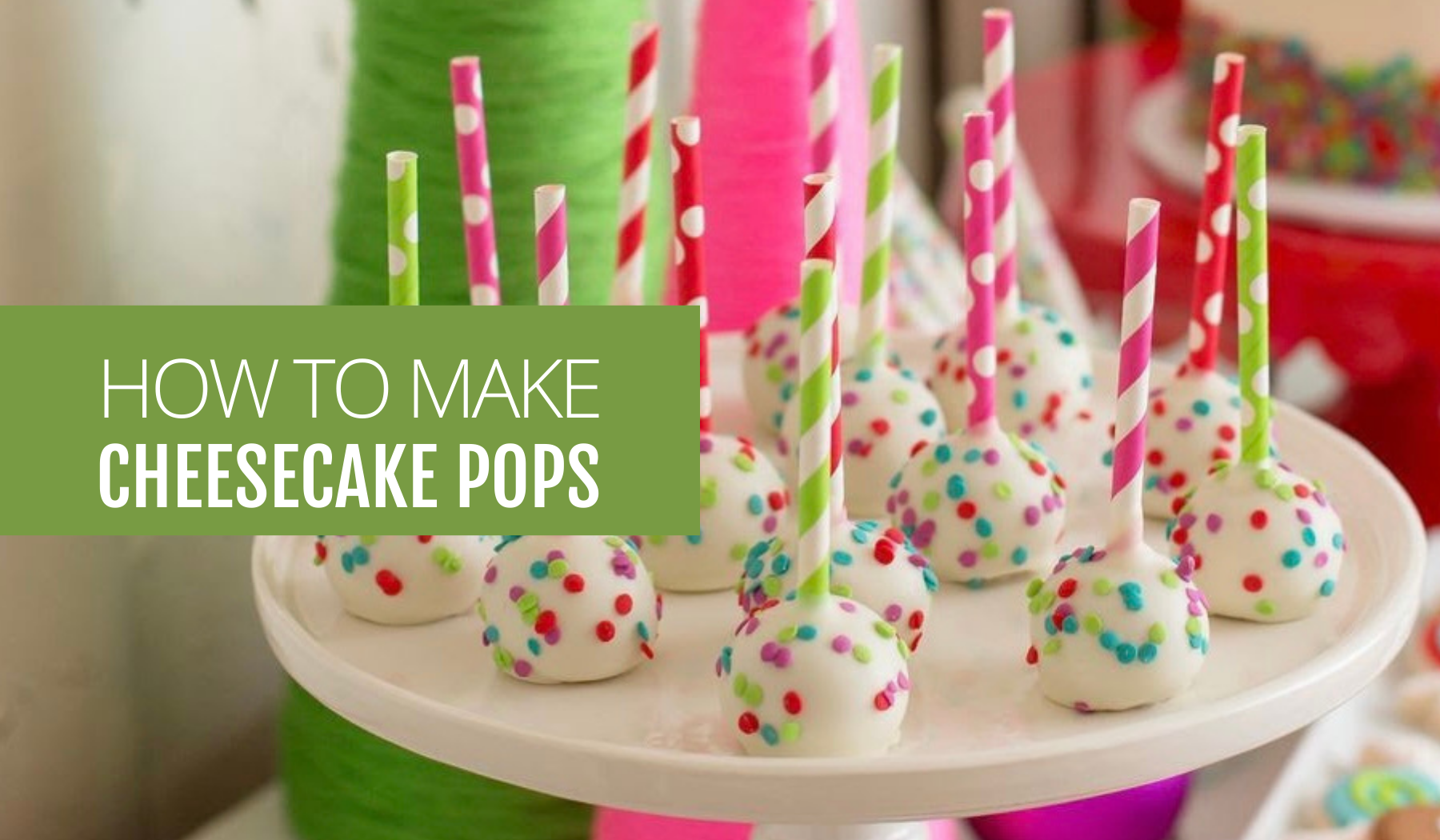 Let's all relax and take it CHEESY with this festive favorite!! Enjoy this bite-sized take on a traditional holiday dessert: CHEESECAKE POPS! Decadent and delightful, these cheesecake pops will be the first thing to disappear from your holiday spread this year!

** Makes 3 dozen **
Prep Time: 10 minutes  
Bake Time: 45 – 55 minutes
INGREDIENTS:
3 (8-ounce) blocks cream cheese, softened
1 cup sugar
3 eggs
1 cup sour cream
2 teaspoon vanilla
1/3 cup all-purpose flour
24 ounces Ghirardelli Chocolate White Melting Wafers
INSTRUCTIONS: 
Preheat oven to 350 degrees. Line 9-inch springform pan with parchment paper.

In mixing bowl, beat cream cheese and sugar on medium until smooth.

Add eggs 1 at a time. Beat well after each.

Add sour cream and vanilla and mix.

Add flour and mix until incorporated.

Pour batter into prepared pan and bake on top of baking sheet until center of cake is set and just starts to brown, 45 – 55 minutes.

Let cake cool in pan on wire rack and then cover and chill in refrigerator overnight.

Remove cheesecake from refrigerator and release outer ring of the springform pan. Trim any crust or brown part off cheesecake around the top or edges.

Use a tablespoon scoop and spoon out cheesecake balls. Place on baking pan covered in wax paper.

Use hands to roll smooth balls. (Rinse hands after every few balls to avoid mess.) Repeat until all balls are formed.

Place 2 ounces of chocolate melts in small bowl, microwave about 20 seconds and stir until smooth.

Dip the end of the lollipop sticks into the melted chocolate and insert into cheesecake balls about halfway.

Freeze cheesecakes for about 1 hour, until firm.

Place remaining chocolate in bowl. Microwave at 30 second intervals, stirring after each for about 1 1/2 minutes. Stir until smooth.

Remove a few cheesecake pops from freezer at a time. Dip completely in chocolate. Tap lollipop stick against bowl to allow excess chocolate to drip off.

Place cheesecake ball onto piece of wax paper and add sprinkles immediately before chocolate sets. May store in refrigerator for 1 – 2 weeks. 
If you try any of these recipes at home with your family, take a sweet pic and tag us @ellenjaysweets so we can see your very own holiday magic!!