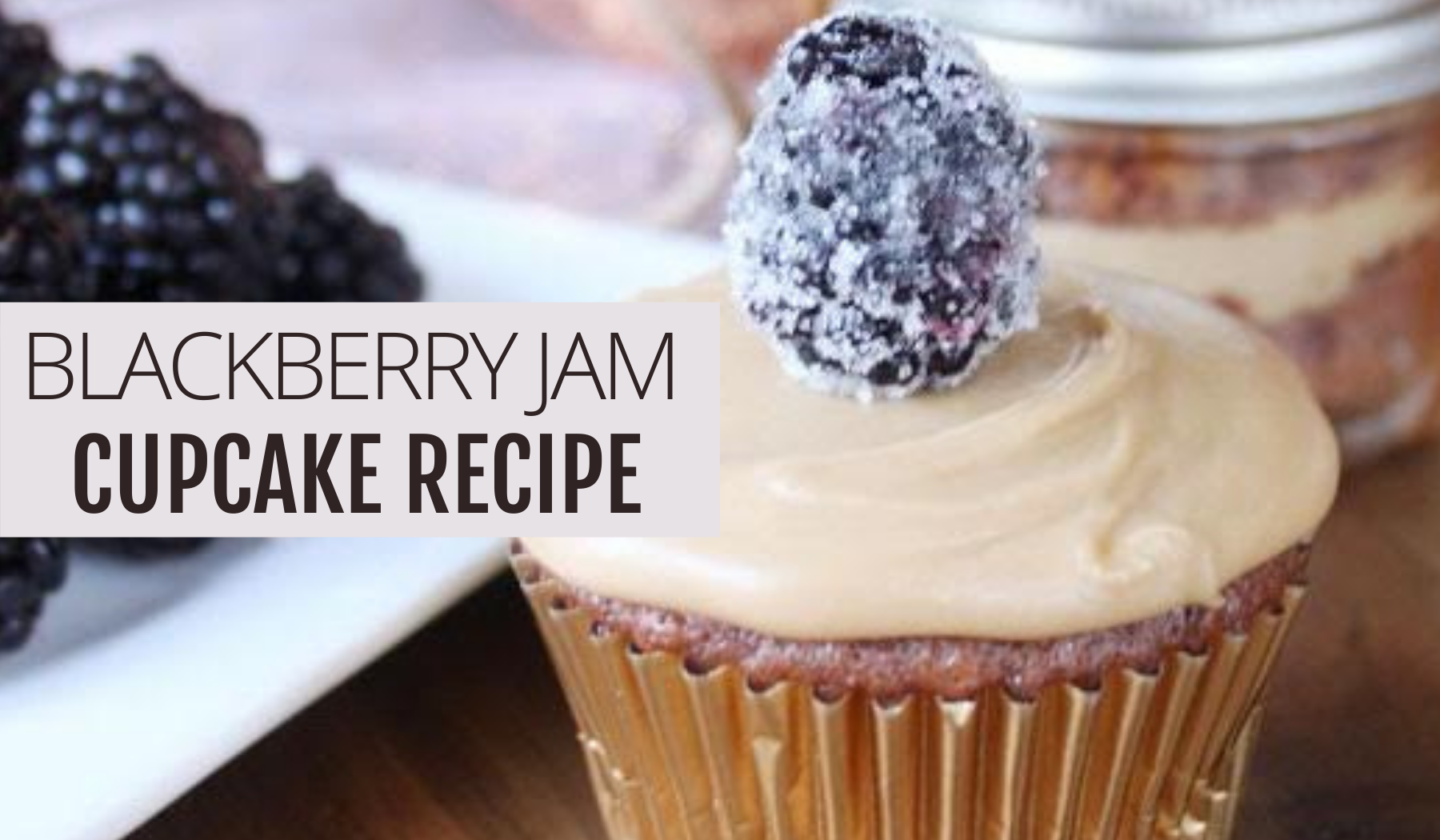 It's time for another family favorite that Lauren's "granga" (her grandmother on her dad's side) made every Christmas – BLACKBERRY JAM CUPCAKES.  
This super moist cake is sprinkled with cinnamon, nutmeg, all spice, LOTS of jam, crushed pineapple, and nuts.  Each ultra rich cupcake is topped off with a sinfully sweet caramel frosting.  ENJOY!  
For the Cupcake:
INGREDIENTS:
1 cup unsalted butter, melted
1 cup buttermilk
2 cups sugar
4 eggs
1 tsp baking soda
1 tsp nutmeg
1 tsp cinnamon
1 tsp allspice
3 cups all-purpose flour
2 cups blackberry jam (or whichever jam you prefer)
1 8oz can crushed pineapple, drained
1 cup walnuts, chopped (or whichever nut you prefer)
1 cup raisins (optional)
INSTRUCTIONS:
Preheat oven to 350 degrees and line muffin pans with cupcake liners

In large bowl combine butter, buttermilk, sugar, eggs, baking soda and spices, mix well.

Mix in flour, jam and pineapple.

Fold in nuts (and raisins if using).

Fill cupcake liners 3/4 full with batter.

Bake for 18-20 minutes or until toothpick inserted in center comes out clean.

Let cupcakes cool in pans 5 minutes, then remove to wire racks to finish cooling.

Once cupcakes are completely cool frost with Caramel Icing and garnish with a sugared blackberry.
For the Icing:
INGREDIENTS:
1/2 cup unsalted butter, melted
1 cup light brown sugar, firmly packed
1/4 cup milk + 1-2 tsp
2 cups confectioner's sugar
INSTRUCTIONS:
Melt butter in saucepan on medium heat.

Add brown sugar and boil for 2 minutes.

Add milk and stir constantly until it boils.

Remove saucepan from heat and place in bowl of cold water and stir until the icing begins to thicken.

Gradually stir in confectioner's sugar.

Add additional 1-2 tsp of milk until reach desired consistency.

Frost cupcakes with offset spatula.
For the Sugared Blackberries:
INGREDIENTS:
1 egg white*
1 pint blackberries
granulated sugar
INSTRUCTIONS:
Place egg white in a small bowl.

Using a small paint brush coat blackberries in egg white and gently roll in sugar.

Place sugar coated blackberries upright on parchment paper to dry for several hours.

Place blackberries on top of cupcakes for garnish.
* Due to the slight risk of salmonella or other food-borne illness, we recommend consuming raw egg with caution.  If serving to small children, the elderly, pregnant women or those with an illness, substitute pasteurized egg whites when making the sugared blackberries.
If you try any of these recipes at home with your family, take a sweet pic and tag us @ellenjaysweets so we can see your very own holiday magic!!