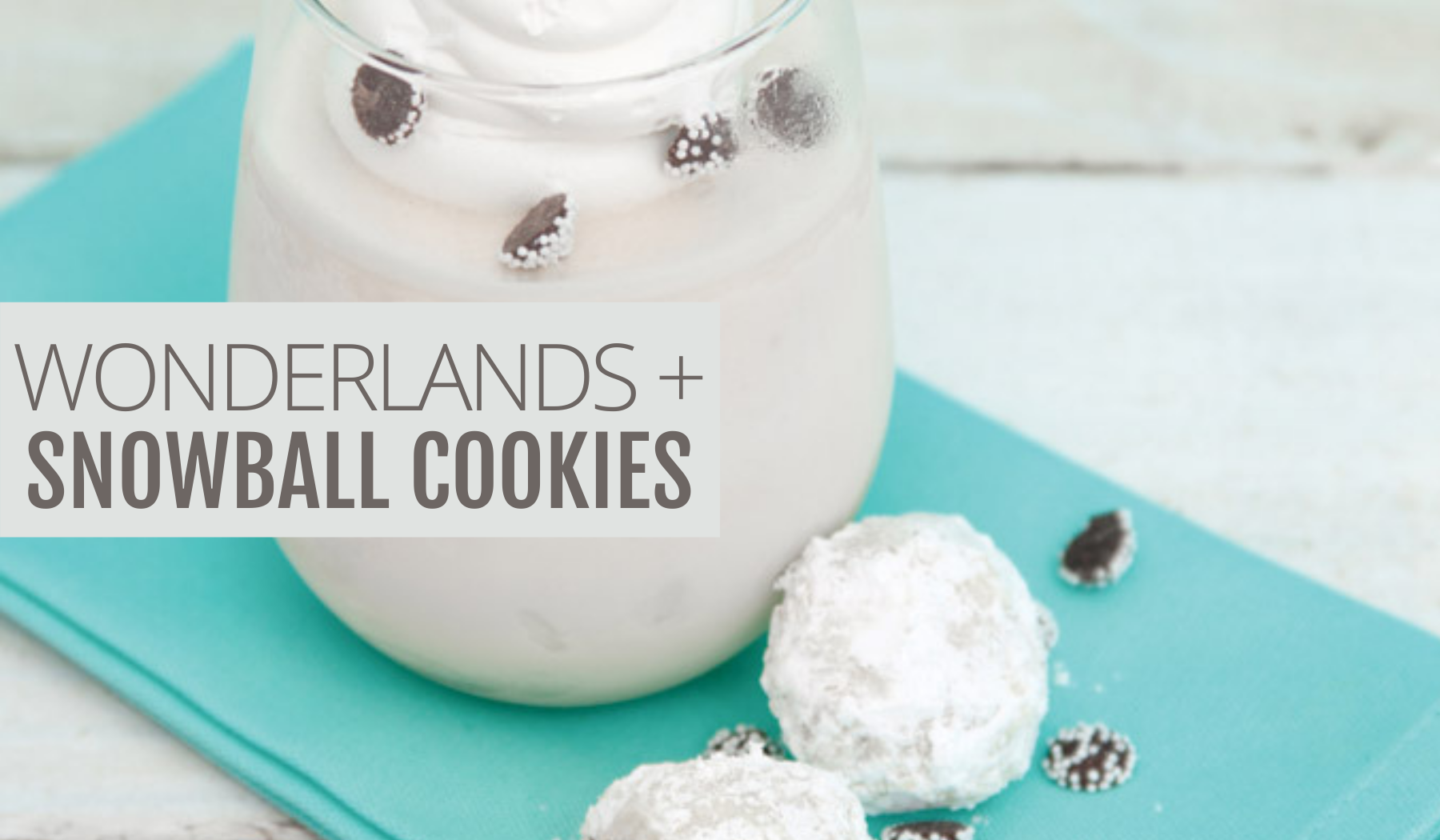 HO! HO! HO!  Merry Cookies!!  Yea…we're pretty darn excited that December is officially here.  Team ellenJAY is celebrating the beginning of the Holiday season with the COOLEST recipe around!! Join our wondrous adventure making Winter Wonderlands + Snowball Cookies!!
Winter Wonderlands
** Serves 4 **
Prep Time: 5 minutes • Inactive Prep Time: 30 – 60 minutes 
INGREDIENTS
6 cups packed vanilla ice cream
1 cup milk
1/2 cup Godiva White Chocolate Liqueur
1/4 cup Kahlua Coffee Liqueur
Cool Whip dessert topping
Sno-Caps semi-sweet chocolate nonpareils, for garnish
INSTRUCTIONS
Combine ice cream, milk, Godiva White Chocolate Liqueur and Kahlua Coffee Liqueur in a blender. Mix until smooth.

Pour milkshake into 4 glasses and place into freezer for about 30 minutes to an hour to allow them to thicken up a bit.

Remove milkshakes from freezer and garnish with a dollop of Cool Whip topping and a sprinkling of
Sno-Caps.

Serve with straws for sipping and spoons for dipping. 
Snowball Cookies
** Makes 5 dozen **
Prep Time: 10 minutes • Bake Time: 12 minutes
INGREDIENTS 
1 pound unsalted butter,  softened
1 cup confectioners' sugar,  plus 2 cups for coating
2 egg yolks
1 teaspoon vanilla extract
4 cups all-purpose flour
1 cup chopped small pecans
INSTRUCTIONS:
Preheat oven to 350 degrees and line baking sheets with parchment paper.

In the bowl of a stand mixer on medium speed cream butter until smooth.

Add confectioners' sugar and mix until well combined.

Add egg yolks and vanilla and mix thoroughly.

Add flour 1 cup at a time and mix, scraping down sides of bowl as necessary.

Mix in pecans.


Use a tablespoon scoop and place dough balls onto prepared baking sheet.

Bake for 12 minutes.


While cookies are still warm, roll in confectioners' sugar and then place on wax paper.


Once cookies are cooled, place them in an airtight container layering cookies and confectioners' sugar to coat completely. 
If you try any of these recipes at home, take a sweet pic and tag us @ellenjaysweets so we can see your very own holiday magic!