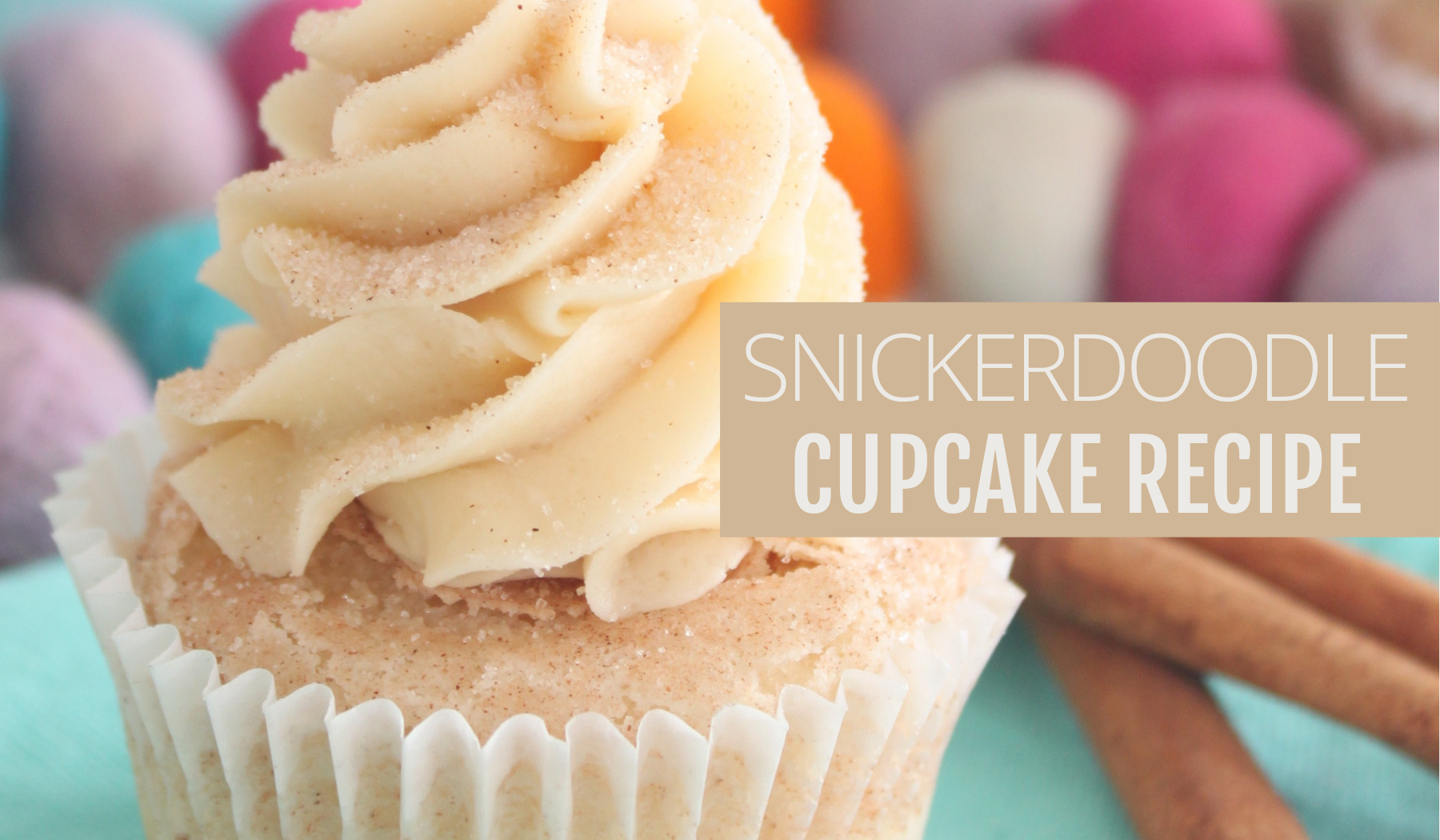 One of our favorite cozy and delicious Holiday Recipes is our wintery SNICKERDOODLE CUPCAKES!! 
You're gonna love these cinnamon sugar cupcakes topped with delicious brown sugar buttercream. This holiday cupcake recipe is inspired by a classic: the Christmas Snickerdoodle Cookie.
INGREDIENTS
For the Snickerdoodle Cupcakes:
1 ⅔ cups all-purpose flour

½ teaspoon baking powder

¼ teaspoon baking soda

½ teaspoon salt

½ cup butter, melted

¾ cup granulated sugar

¼ cup brown sugar

¾ cup buttermilk

¼ cup sour cream

1 tablespoon vanilla extract

2 egg whites
For the Cinnamon Sugar Topping:
¼ cup granulated sugar

1 teaspoon ground cinnamon
For the Brown Sugar Buttercream:
1 cup unsalted butter, room temperature

⅓ cup brown sugar

3 cups confectioners' sugar

1 teaspoon vanilla extract
INSTRUCTIONS
Make the Cupcakes:
Preheat oven to 350F and line cupcake pan with cupcake liners.

In medium bowl combine dry ingredients: flour, baking powder, baking soda and salt.

In microwave safe bowl, melt butter. Then whisk in the sugar, buttermilk, sour cream and vanilla.

Add the liquid ingredients to the dry ingredients and mix until combined.

In bowl of stand mixer, beat egg whites until soft peaks form. Fold into the batter until combined.

Fill cupcake liners ¾ full.

Mix sugar and cinnamon topping together and sprinkle ½ teaspoon on top of each cupcake. Reserve remaining for final décor.

Bake for 15-18 minutes, or until toothpick inserted comes out with a few crumbs.

Allow cupcakes to cool in pans for 5 minutes, then remove to wire racks to finish cooling.
Make the Frosting:
Mix butter, brown sugar and vanilla in bowl of stand mixer on medium speed for 2 minutes, until smooth.

Reduce mixer speed to low, and slowly add in confectioners' sugar 1 cup at a time while mixer is running and mix until smooth.

Prepare a piping bag fitted with a 1M tip and fill with frosting.

Swirl buttercream on top cupcakes and sprinkle with remaining cinnamon-sugar mixture.
If you try any of these recipes at home with your family, take a sweet pic and tag us @ellenjaysweets so we can see your very own holiday magic!!