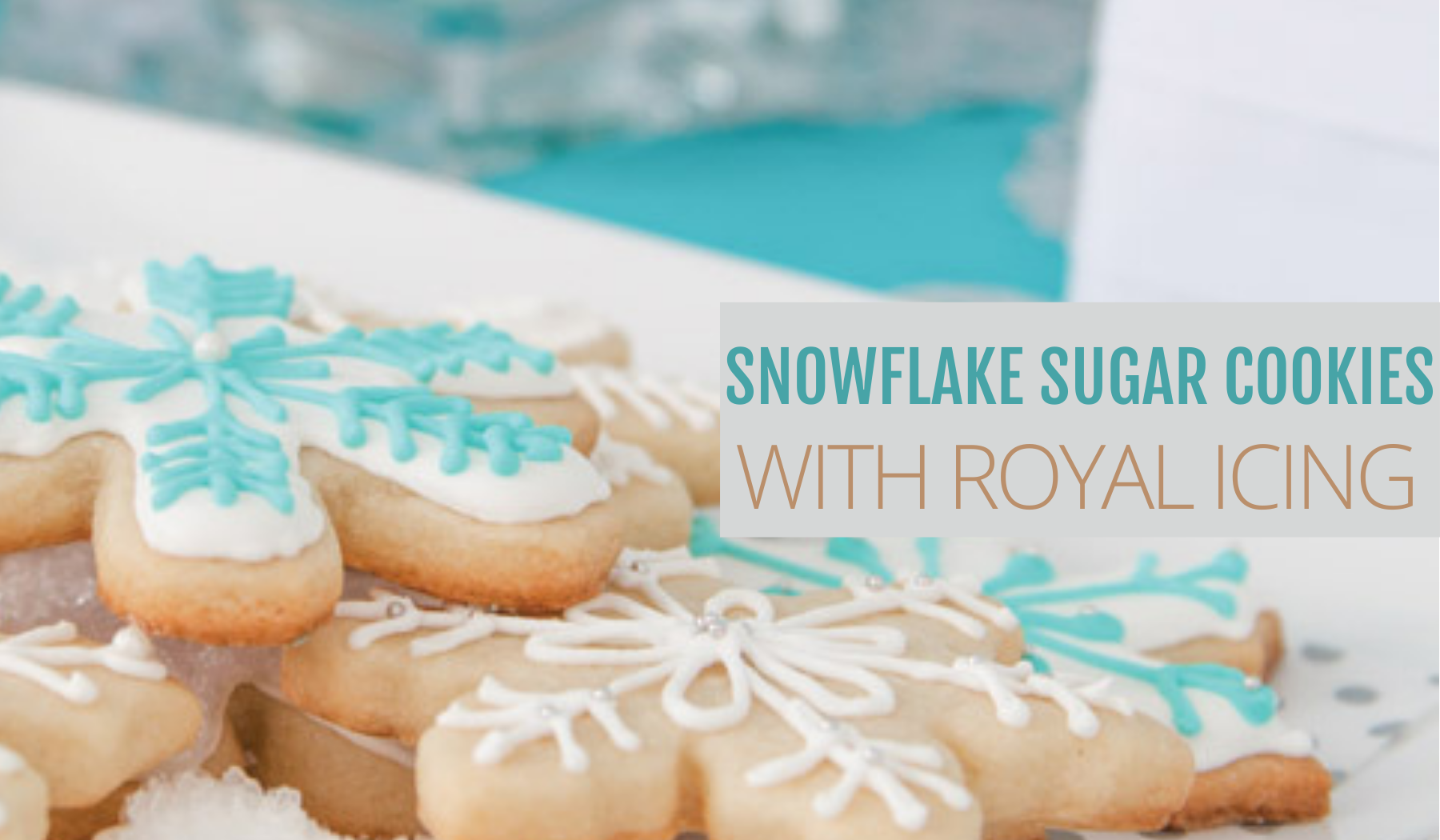 Time to get ICY with our famous Royal Icing!! You know 'em and you love 'em!! It's our all time favorite SNOWFLAKE SUGAR COOKIES WITH ROYAL ICING! Adorable and delicious, these homemade confections are well worth the effort, and a festive classic here at ellenJAY!
** Makes enough to decorate 2 – 3 dozen cookies **
For the Cookies:
Prep Time: 20 minutes 
Inactive Prep Time: 20 minutes 
Bake Time: 10 – 12 minutes
Decorating time: 1 hour
INGREDIENTS:
 
3 cups all-purpose flour
2 teaspoons baking powder
1/4 teaspoon salt
1 cup sugar
2 sticks unsalted butter, cold, 
cut into chunks
1 egg
1 teaspoon vanilla
INSTRUCTIONS:
Preheat oven to 350 degrees and line baking sheets with parchment paper.

In a medium bowl, combine flour, baking powder and salt. Mix well.

In the bowl of a stand mixer, combine sugar and butter and mix on medium speed until well combined.

Add egg and vanilla and mix well.

Gradually add flour mixture, scraping sides of bowl as needed until dough comes together.

Place wax paper on countertop and lightly flour surface.

Take half of the cookie dough and knead together and roll out to about 1/4-inch thickness with rolling pin.

Cut out snowflakes with cookie cutters and place onto prepared cookie sheet about 1 inch apart.

Place cookies into refrigerator for 20 minutes to chill. This will help the cookies keep their shape when baking.

Bake for 10 – 12 minutes.

Allow cookies to cool on pans for 5 minutes, then remove to wire racks to continue cooling.

Once cookies are cool, decorate with royal icing and sprinkles. Makes 2 – 3 dozen, depending on the size.
For the Royal Icing
Prep Time: 20 minutes
INGREDIENTS:
4 cups confectioners' sugar
1/4 cup meringue powder
1/2 scant cup water
gel coloring
sprinkles
SUPPLIES: 
piping bags
piping tip – small round Wilton No.2
squeeze bottles

INSTRUCTIONS: 
In the bowl of a stand mixer, combine confectioners' sugar and meringue powder and mix on low.

Add water and beat on medium speed for 5 – 7 minutes until stiff peaks form.

Place icing in plastic airtight containers until ready to use. Portion out icing into separate containers, using 1 container for each color you plan to use. It is best to work with about 1 cup of icing at a time.

Use a toothpick and a small amount of gel coloring to tint icing.

To pipe details or outlines on cookies, place a small amount of icing in piping bag fitted with No. 2 round tip. Gently squeeze icing and trace the outline of your cookie or pipe snowflake details. Allow outlines to dry for about 20 minutes before flooding.

To flood cookies, thin the icing with 1 teaspoon water at a time. Stir icing with small spatula and continue to add water as necessary to reach desired flooding consistency. If you lift your spatula and the icing drips and falls back into itself after about 7 seconds, it is a good consistency. 
If you try any of these recipes at home with your family, take a sweet pic and tag us @ellenjaysweets so we can see your very own holiday magic!!